Anna Domino \ Anna Domino [LTMCD 2397]
Remastered CD edition of the eponymous debut album from North American singer-songwriter Anna Domino, originally released by Les Disques du Crépuscule and Factory in 1986. After relocating from New York to Brussels, Anna Domino cut this magical album with the aid of two top flight producers: Alan Rankine (Associates), and Marc Moulin (Telex). The record went on to become a major independent success, thanks largely to Anna's confessional lyrics and reflective vocals, combined with sophisticated songs and sharp rhythmic styles.
The five bonus cuts include all the non-album tracks from the 1984 ep 'Rythm', plus the outstanding single remix of Summer by New York maestro Arthur Baker and also Zanna, a collaboration with Luc van Acker. The CD has been remastered from the original tapes, runs for 70 minutes, and retains the evocative sleeve painting by Benoît Hennebert. Booklet contains liner notes.
Tracklist
1. Rythm
2. Drunk
3. Koo Koo
4. My Man
5. Caught
6. Summer
7. The Hunter Gets Captured by the Game
8. Chosen Ones
9. Not Right Now
10. Take That
11. Sixteen Tons
12. Half Of Myself
13. Target
14. Zanna
15. Summer (Arthur Baker 12" Remix)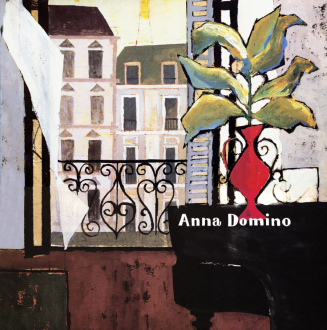 Reviews:
"Well worth another spin round the block. A sophisticated slice of synth-pop, it still wears its down-tempo charms refreshingly lightly, with the smokey, finger-snapping opener Rythm worth the admission alone" (Q Magazine, 05/2004)
"A sharp, fun treat - Anna keeps an easy feel going in her music, with plenty of finger-snapping, hip-swinging grooves" (All Music Guide, 03/2004)
"The best possible introduction to a seductive, mercurial character who continues to make far too few orbits into our earthbound pop world" (Whisperin' & Hollerin', 04/2004)
"Domino's tainted torch songs are not for playing discreetly in the background, but well worth the trouble of engaging with" (Uncut, 05/2004)
"Cool and somewhat detached vocals sit astride the music's cool pop grooves. Anna Domino feels like an artist headed for mainstream success, which never arrived. Why?" (The Wire, 04/2004)
"Anna Domino is one of those artists who have somehow remained undiscovered by the mases during her 20 year career. Her music is jazzy, cosmopolitan and sophisticated, yet with a simplicity and poppiness which simply isn't reflected in the lyrics" (Exclaim! 05/2004)
"A state of resigned half-awareness lifts these uncensored confessionals beyond the precipice. This is the sound of dusk, seasons, sublime elegance and supernatural light" (NME, 09/1986)