twi110cd.jpg
Steven Brown \ Music For Solo Piano [TWI 110 CD]
The all-instrumental album Music For Solo Piano was originally recorded in 1982/83, and remains one of Steven Brown's best regarded works.
The solo pieces for piano and clarinet range from modern to classically-informed, while on several tracks Steven is joined by Tuxedomoon violinist Blaine L. Reininger. The 9 bonus tracks include selections from Tuxedomoon's haunting 'opera without words' The Ghost Sonata as well as 3 tracks from his score for modern ballet Belly of the Whale, newly recorded in 2018.
Digitally remastered in 2018. Liner notes. Original artwork by Patrick Roques.
Tracklist
1. Piano No.1
2. Waltz
3. The Ball
4. Hold Me While I'm Naked
5. Close Little Sixes
6. Fanfare
7. Egypt
8. The Fall
9. Fantasy For Clarinet and Violin
10. R.W.F.
11. Rotterdam Lullabye
12. The Ghost Sonata (Take 1)
13. The Ghost Sonata (Take 2)
14. Music No.2
15. Basso Pomade (orchestral)
16. Licorice Stick Ostinato (orchestral)
17. Music No.2 (orchestral)
18. Violencia
19. Melancolia
20. Final
Available on CD and digital (MP3). CDs ordered from LDDC are slipcased. To order please select correct shipping option (UK, Europe or Rest of World) and then click on Add To Cart button below the cover image.
Or, you can order with the option of tracked shipping from our friends at Burning Shed (click here to order)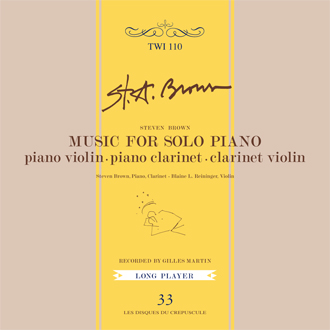 Reviews:
"Anyone expecting the kind of edgy electronics that Tuxedomoon specialised in circa Half Mute is in for a bit of a straightener. On Music For Solo Piano, we're firmly in the quasi-classical field that appealed to a lot of the post-punk crowd as time went on, and Brown was possibly one of the first to make the leap. It's a pretty satisfying and unique creation, enjoyable and playful, at some times sad and others uplifting. Obviously a long way away from post-punk and even pop music, this is basically classical music in bite-sized pieces, with a leftfield approach. But it is accessible enough to hold the attention of anyone prepared to try something a little different, and the melodies will embed themselves given half a chance. Informative sleeve-notes plus stylish design make for an attractive package. Steven Brown took a chance with his first solo record like few others would and that is worth applause on its own - he also managed to fashion a pleasing collection into the bargain. The last three tracks are the newest, being recorded in October 2018 for the ballet, Belly of the Whale. These selections do hark back to the 1984 sound but are a bit more playful. My favourite is the rapid changes in tempo of Melancolia; with this you are obviously missing the crucial visual element, but it is easy to imagine how this piece knitted together with the dancers' movement" (Louder Than War, 01/2019)
"Bewitching and melancholic" (Vinyl, 06/1984)
"Brown and Reininger unlace the strings of music and genre: disturbing/light, learned/charming, modern/nostalgic" (Open System Project, 09/1984)
"Forceful and subversive. Brown has emerged as a leading force of the new music, which rejects the conventional separation of pop, classical and avant-garde" (Vox, 09/1991)
"There are sublime moments on Music for Solo Piano, which never panders to easy listening" (Melody Maker, 07/1988)