twi119.jpg
Something On My Mind combines a 12 track vinyl album with a bonus 19 track live CD. Side one of the album features six studio tracks, including all tracks from the maxi single released by Crépuscule/Operation Twilight in June 1982, as well as unreleased second single Longshot For Your Love plus two tracks recorded for the Crépuscule compilation albums Ghosts of Christmas Past and Moving Soundtracks.
Side two features 6 live tracks recorded in October 1982 on the celebrated Crépuscule package tour Move Back-Bite Harder, which saw the Paleys matched with Antena, 23 Skidoo, Cabaret Voltaire and Tuxedomoon. The bonus live CD packaged with the album includes complete performances by Pale Fountains from Brussels (5 October) and Leuven (6 October).
At the end of 1982 the group signed to Virgin and went on to release the acclaimed albums Pacific Street and From Across the Kitchen Table. Praised as "our greatest songwriter" by NME, Michael Head went on to form Shack in 1987 with brother John, while percussionist Nathan McGough moved into management. Trumpet player Andy Diagram also played in Diagram Brothers, Dislocation Dance and James. Sadly bassist Chris 'Biffa' McCaffery passed away in 1989.
TWI 119 cover art by Benoît Hennebert. Liner notes by Paleys historian Geoff King. Now available at £17.00 including UK postage. Europe = £23.00 including airmail postage. North America, Asia etc £25.00. SORRY - THIS TITLE IS NOW SOLD OUT!
Tracklist (LP):
1. Just A Girl
2. (There's Always) Something On My Mind
3. Lavinia's Dream
4. Longshot For Your Love
5. Benoît's Christmas
6. We Have All The Time In The World
7. Shelter (live)
8. Just A Girl (live)
9. The Norfolk Broads (live)
10. Maybe The People Would Be The Times (live)
11. Thank You (live)
12. Walk On By (live)
Tracklist (bonus live CD):
1. Lavinia's Dream
2. (There's Always) Something On My Mind
3. Shelter
4. Longshot For Your Love
5. Just A Girl
6. We Have All the Time In The World
7. The Norfolk Broads
8. Maybe The People Would Be The Times
9. Thank You
10. Walk On By
11. Lavinia's Dream
12. (There's Always) Something On My Mind
13. Longshot For Your Love
14. Shelter
15. Just a Girl
16. The Norfolk Broads
17. We Have All The Time In The World
18. Thank You
19. Maybe The People Would Be The Times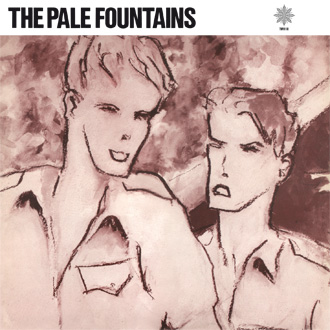 Reviews:
"The Pale Fountains were a unique proposistion in the early 80s: they looked back to 60s artists such as Love and Burt Bacharach, and, with just acoustic guitars, bass and drums, managed to rise above their influences. Aching and beautiful, their first steps on Operation Twilight are all here, along with 19 live cuts recorded during a tour of belgium in 1982, while the package comes with comprehensive sleevenotes" (Record Collector, 12/2013)
"A fresh wind comes blowing across the Mersey, a wind that captures the innocence of the best Postcard single. A slow samba beat, a warm 12-string guitar, and a trumpet to make you weep. The Pale Fountains wear their hearts on their sleeves" (Record Mirror, 07/1982)
"The Pale Fountains come from Liverpool. They sound as if they come from heaven... A positively Bacharachian interplay of instruments and a staggering talent for writing catchy pop songs that outshines anything I've heard for so long" (Masterbag, 07/1982)
"I thought the Pale Fountains would be too sweet for my sugar-free diet, but these Liverpool lads are incredibly beguiling. Their simplicity and acoustic guitars win hearts, with a raw innocence that bites. One lonely trumpet lights their fire. Jose Feliciano raises his head. Love comes in spurts." (Sounds, 10/1982)
"The songs on the band's debut single and are the equal of anything Postcard, Rough Trade and the like were putting out at the time. Prime songwriting dressed up in carefree acoustically-minded pop, what's not to like? The Pale Fountains should have been as big as, say, Aztec Camera or Everything But The Girl, but ended up gambling on a move to Virgin Records and seeing their light melancholic brand of bedsitter cool head down the proverbial tubes. But why? A band at the top of their game from the off, yet cruelly ignored in a flurry of critical shrugs and public indifference" (Flipside, 09/2013)